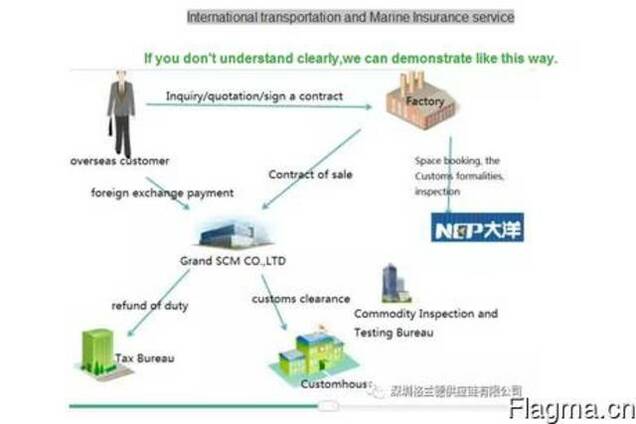 $ 5,000 /service
$ 1,000-10,000 /service
wholesale
Grand SCM CO., LTD is a specialized agency enjoying export duty drawback right which belongs to Neptune Logistics(established in 2002) also has an integrated trading service platfrom which is based on the seller's requirements.
It is a Export & Import company that approved by the State department of Economic & Trade and General Administration of Customs.
It is majoring in domestic and foreign manufactures and trader to provide import and export customs declaration and services and international trade business of professional companies.
We are an agent for customers to provide customs declaration, China Railway express , international Maritime transport , air transportation, LCL shipment and so on. One to one service from the begining to the end.
Neptune Logistics are dedicated to provide outstanding Sino-China Rail Express and multimodal transport and service which will run through China , CIS, Turkey, Iran, the Middle East and European.
We are responsible for the international railway transportation and we have professional staffs who own extremely high professional knowledge and experience can handle all complex and unconventional transportation needs and we always intergrate innovation in our work.
The company is in business of transportation and logistics-related services for more than 15 years. The ultimate goal of Cargo Logistics International , is to assiast our customers on the way to their success , to help them reach their business objesctives and to facilitate their access to markets on all continents.
In order to meet the needs and expectations of all customers , our company maintains a reliable global network and has established a strong position on the emerging markets such as Russia, Kazakhstan, Uzbekistan, Tajikistan, Turkmenistan, Latvia, Armenia, Iran and so on.
Supply Chain Service
Client consign Grand(SZ) to export products then we provide customs clearance product delivery and tax rebate service.
Foreign exchange
A. Overseas customer settle payment to Grand SCM account.
B. Grand SCM will pay RMB to the designated factory's account.
C Designated account must be public account which can make out an invoice to get export tax refund conveniently.
D. Foreign exchange dollar account is a domestic company (Non-HongKong) offshore account.
Export Tax Refund
A. Foreign exchange and sign the agency agreement
B. After customer clearance down, Open VAT special invoice to Grand SCM
C. Send to the Inland revenue department
D. Get tax refund from government
Booking space and arrange truck
Handle all kinds of customs clearance documents
Agent for purchasing:Machine electricity, furniture, Paper products, artware, plastics, Textile manufacturing, chemical industry, ceramics, Lighting, building materials and so on.
International transportation and Marine Insurance service
We can arrange the international container, the central Europe line of bulk goods, sea transport and air transport, also apply for the purchase of Marine insurance.
We have more than 2000 self-owned container and can significantly help customers to save cost of Europe, the Middle East , far east , Iran , China, Afghanistan , CIS region, which ensure the competitiveness and reliability of freight rates and the availability of freight rates and the regional services.
Related services
Provide accurate , details including packing list, description, weight, packing , quantity , specification, brand , the port customs clearance , related data, such as the final destination, we will be responsible for customs clearance in accordance with your request ensure the safety and efficiency of goods export declaration.
Neptune can provide you with professional products export agent services , professional customs clearance service, as well as other relevant export services. Make your collection and export business run smoothly!
Renewed: 30 January 2018, 10:09
views: 50
Similar ads